Passive EQ Collection (iOS)
v2.0.0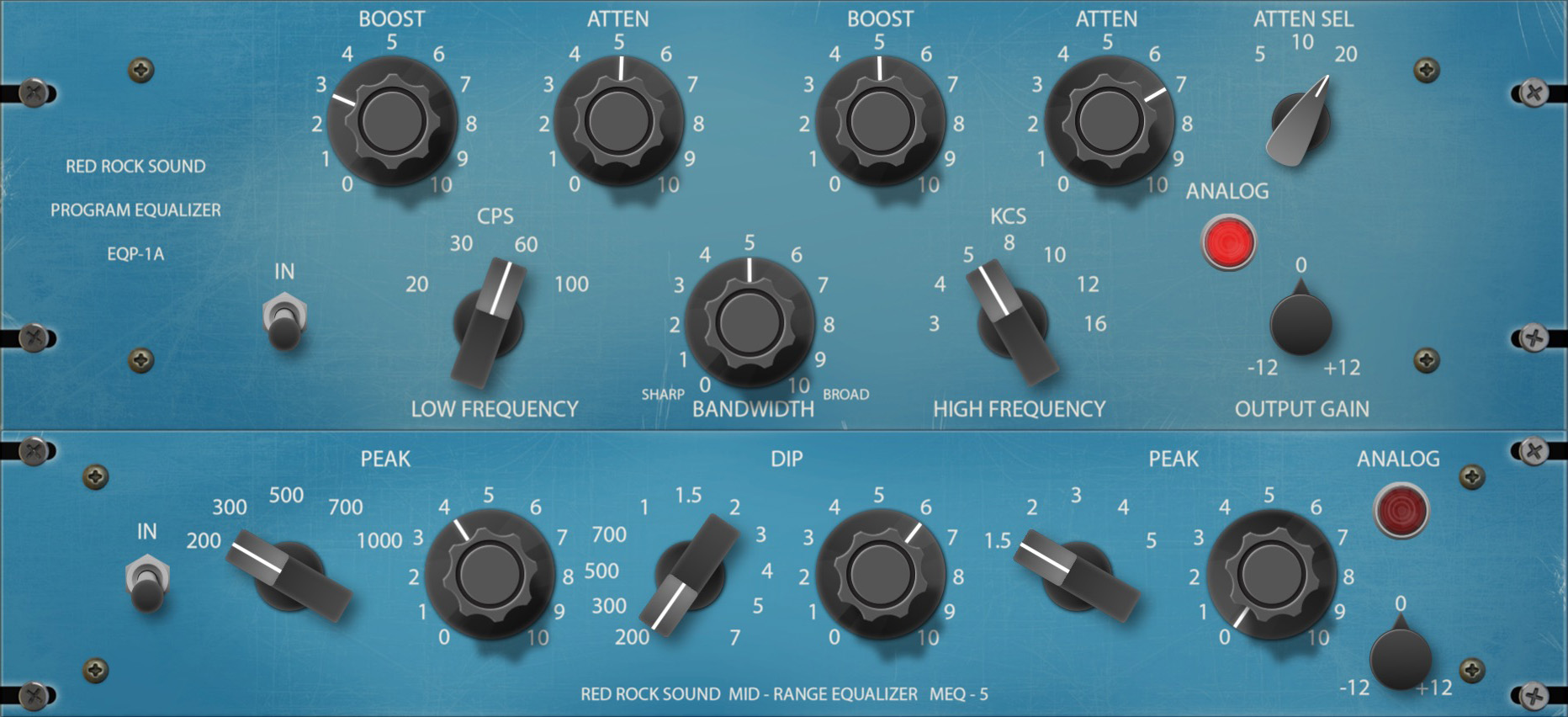 Two classics, EQP-1A and MEQ-5, combined in one full-featured equalizer.
SPECIFICATIONS
Two classics, EQP-1A and MEQ-5, combined in one full-featured equalizer;
Standalone and AUv3 Plug-in;
Modeled vintage Equalizers;
On/Off Analog Saturation;
Undo/Redo;
A/B;
2x/4x/8x Upsampling.
The EQP-1A based on Classic Program Equalizer from the '60s, original EQ is renowned for its unique ability to boost and cut the same frequencies simultaneously, thereby creating a resonant shelf, the EQP-1A faithfully models the overbuilt transformers and complex tube amplifiers of the original hardware.
Conceived and created for broadband equalization, the EQP-1A features 4 low boost/cut frequencies, 3 high-cut frequencies and 7 HF boost points, along with a bandwidth control for shaping the high boost curve.
The MEQ-5 based on Classic Mid-Range Equalizer from the '70s, with two bands of midrange boost and one band of midrange dip, the MEQ-5 gets the very best out of the «power region» where guitars and vocals can make or break a mix.
The MEQ-5 provides exacting control of the «power region» in program material, that frequency range from about 300 Hz to 5000 Hz in which most of the sound energy is concentrated. The ear is especially sensitive to sounds in this region. In this region, even small resonances in studio acoustics and microphone and speaker responses are very evident in their effect on the listenability of the sound. Three independent sets of controls make it possible to boost on a peak curve at 200…1000 Hz while simultaneously boosting on a peak curve at 1.5…5 kHz, while simultaneously dipping at 200…7000 Hz.
The broadband EQP-1A and the midrange MEQ-5 together comprise a full range vintage EQ chain.
Reviews and Ratings
All of those!
Yes, simply amazing! All the audio processing apps from this developer is superb! )))) Thank you very much!Din McHine (Russia, App Store)
An incredible Equalizer
Thank you for modeling this equalizer... I've been waiting for the day a developer will recreate this my favorite mixing EQ and you've done it... Kudos to you. For close to a decade, I've been mixing and mastering on desktop but for 4 years now I've ditched it and switched to iOS and I've been using just my iPhone for everything music and videos...

But I have a request... Please model the API 2500, the LA2A & 1176 compressors, any tape emulator & saturation plugin... Thanks again, I know you can do it.Freakydafreakazoid (Nigeria, App Store)
Never doubt on this plugins, buy them super quality
If you are addictive to quality, try them all, no BS. All of the eqs now support oversampling x8, they sounded great even without x8 oversampling, Great Job, thank you.pfffbusynames (App Store)
Great work!
Very impressive and very professional. Thanks.Melody_4_u (Turkey, App Store)
Top quality
RRS apps are great!anickt (USA, App Store)
One of a kind!!!
With so many EQ's on the App Store… how can one choose? Well, I'll tell you one thing. What this AUv3 has under the hood is nothing short of magical!! Just find the preset that suites you, do some light dialing, press the two «Vintage» buttons and enjoy the ride!!_ninobeatz_ (USA, App Store)