EQ550b (iOS)
v2.0.0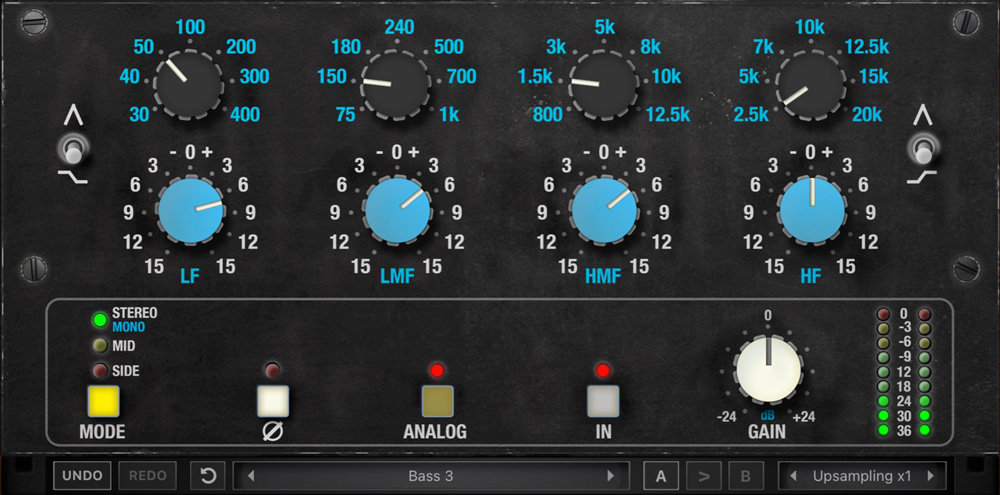 Based on Classic American EQ from the late '60s, the EQ550b is a continuation of the EQ that played a major role in the history of music recording, but with an additional filter band and several new frequencies. With a surprisingly wide range of tonal variations, the EQ550b is an invaluable and professional audio tool with great flexibility and excellent sonic ability.
Features
Standalone and AUv3 plug-in;
Precise port of Rack Extensions plug-in;
Modeled vintage EQ;
Four bands of classic American equalization;
Each band offers seven selected frequency centers;
12 dB of boost/cut per band;
EQ band 1 and 4 offer shelf/peak switching;
Proportional Q narrows filter Q at extremes;
Stereo (Mono), Mid or Side EQ modes;
Saturation On/Off-button;
Undo/Redo;
A/B;
2x/4x/8x Upsampling.
Rather than offer a huge assortment of complex features, the EQ550b provides exactly the right number of controls. Its four EQ bands are overlapped significantly to aid in dual roles as problem solver and sweetening device with each band offering seven switchable filter frequencies that span four-to-five octaves. These frequencies, purposely selected to be musical rather than numeric.
Making use of Proportional Q intuitively widens the filter bandwidth at minimal settings and narrows it at higher settings without the need for additional bandwidth controls. This unique feature minimizes the «phase-shift» sound found in many equalizers.
The EQ550b extends the features of the original hardware and joins the flexibility of the digital world to the character of the analog processing. Allows you to choose between equalizer modes (Stereo, Mid, Side) and remove analogue saturation from the processing circuit to deliver pure digital sound.
To use EQ550b as a plug-in, you need an AUv3-compatible host app like GarageBand, Auria, AUM, Cubasis and more — EQ550b will appear in the list of Audio Unit extensions for effect plug-ins in the host app.
Reviews and Ratings
Their eqs sound fantastic!flo26 (forum.audiobus.us)
These are really nice EQs, definitely worth a demo because the use case is different for sure. These add warmth and girth, and are pretty cheap.mulletsaison (forum.audiobus.us)
Great EQ
All RRS apps are awesome!anickt (USA, AppStore)