EQ550 (iOS)
v2.0.0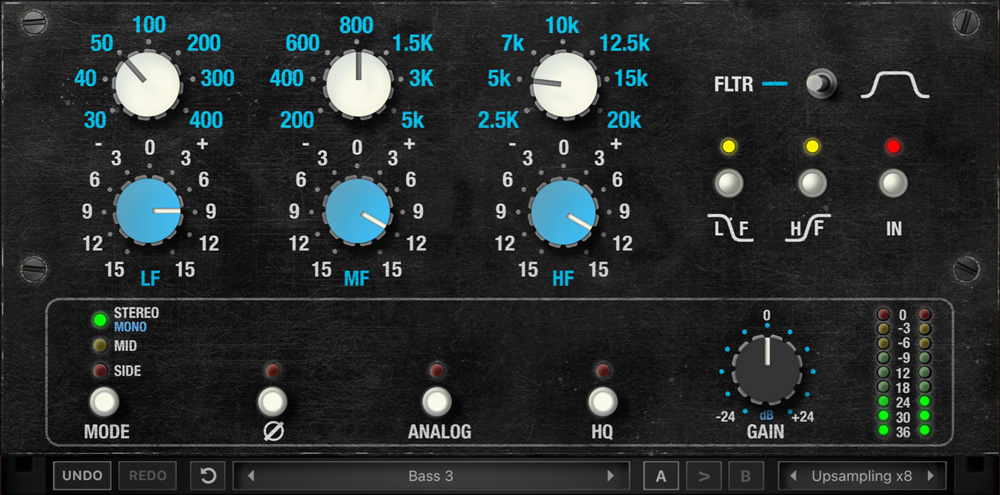 The EQ550 faithfully captures the punch, low-frequency transparency, and ultra-tight imaging of iconic American EQs of the late 1960's.
Making use of Proportional Q intuitively widens the filter bandwidth at minimal settings and narrows it at higher settings without the need for additional bandwidth controls. This unique feature minimizes the «phase-shift» sound found in many equalizers.
Features
Standalone and AUv3 plug-in;
Precise port of Rack Extensions plug-in;
3 bands of classic American equalization;
Each band offers 7 selected frequency centers;
Maximum 12 dB of boost/cut per band;
EQ Band 1 and 3 offer shelf/peak switching;
Proportional Q narrows filter Q at extremes;
Stereo (Mono), Mid or Side EQ modes;
Saturation On/Off-button;
Undo/Redo;
A/B;
2x/4x/8x Upsampling.
The EQ550 provides reciprocal equalization at 21 points in 5 steps of boost to a maximum of 12dB of gain at each point. The twenty one equalization points are divided into three overlapping ranges. The high and low frequency ranges are individually selectable as either peaking or shelving, and a band-pass filter may be inserted independently of all other selected equalization settings. Frequency ranges and boost/cut are selected by switches, and a pushbutton «IN» switch allows the EQ to be silently introduced to the signal path. A small toggle switch is used to insert the band-pass filter into the EQ550.
The EQ550 extends the features of the original hardware and joins the flexibility of the digital world to the character of the analog processing. Allows you to choose between equalizer modes (Stereo, Mid, Side) and remove analogue saturation from the processing circuit to deliver pure digital sound.
To use EQ550 as a plug-in, you need an AUv3-compatible host app like GarageBand, Auria, AUM, Cubasis and more — EQ550 will appear in the list of Audio Unit extensions for effect plug-ins in the host app.
Reviews and Ratings
Really cool sounding.Camilo Calvo (Columbia, App Store)
Their eqs sound fantastic!flo26 (forum.audiobus.us)
These are really nice EQs, definitely worth a demo because the use case is different for sure. These add warmth and girth, and are pretty cheap.mulletsaison (forum.audiobus.us)