EQ-A (iOS)
v2.0.0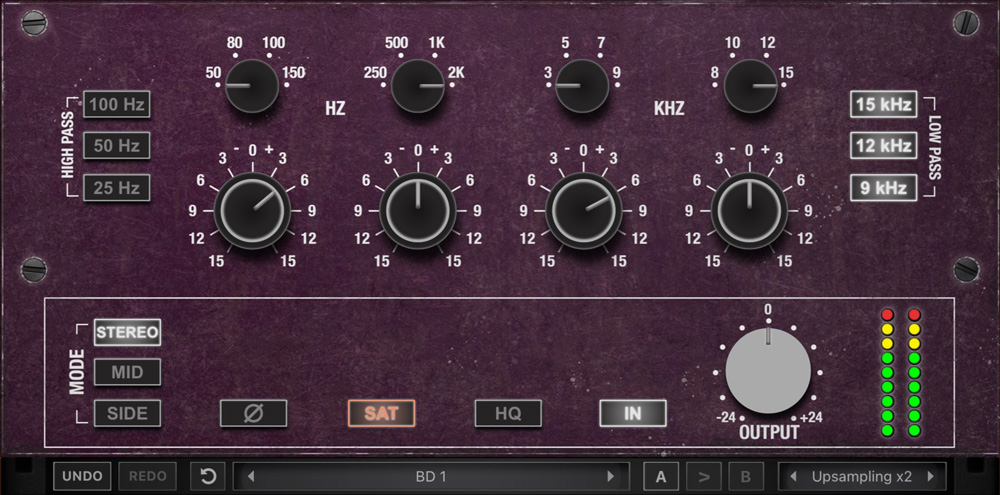 The EQ-A based on Classic British EQ from the '70s. With a surprisingly wide range of tonal variations, the EQ-A is an invaluable and professional audio tool with great flexibility and excellent sonic ability.
Features
Standalone and AUv3 plug-in;
Precise port of Rack Extensions plug-in;
Modeled vintage EQ;
Four bands of classic British equalization (The mid frequency EQ sections are «peaking», while the high and low frequency sections are «shelving»);
Each band offers four selected frequency centers;
15 dB of boost/cut per band;
Three high pass filters at 18 dB per octave and three low pass filters at 12 dB per octave;
Stereo (Mono), Mid or Side EQ modes;
Saturation On/Off-button;
Undo/Redo;
A/B;
2x/4x/8x Upsampling.
The main of the EQ section allows four frequencies at any one time, switchable to one of four frequencies: Low Filter (Shelf): 50, 80, 100, 150 Hz; Low-Mid Filter (Bell): 250, 500, 1k, 2k Hz; High-Mid Filter (Bell): 3k, 5k, 7k, 9k Hz; High Filter (Shelf): 8k, 10k, 12k, 15k Hz.
A series of three high pass filters at 18 dB per octave and three low pass filters at 12 dB per octave are arranged at the ends of the EQ section. They are unique in that the switches can be pushed in simultaneously, offering distinct cut filter combinations with unusual filter curves.
The EQ-A extends the features of the original hardware and joins the flexibility of the digital world to the character of the analog processing. Allows you to choose between equalizer modes (Stereo, Mid, Side) and remove analogue saturation from the processing circuit to deliver pure digital sound.
The EQ-A app filters the sample sound and plays it back in real-time. To use EQ-A as a AUv3 plug-in, you need an AUv3-compatible host app like Logic Pro, Garage Band, Auria, Cubase and more. EQ-A will appear in the list of Audio Unit v3 effect plug-ins in the host app.
Reviews and Ratings
Great vintage EQ
The EQ is a real beast with a vintage touch that give your mix the right feeling. It has also come with some filters you can play with to create very particular sound effects. 5 minutes for trying is a wise and cool decision from the dev, since you can try the sonic possibilities of the app before buying.CarloAlbert (Italy, App Store)
Great EQ port from the desktop music world
Awesome to see this come to iOS/AUv3! Can't wait to see even more from this developer! Easy to use and sounds GREAT!WendysFrostyCarlos (USA, App Store)
Good stuff
Keep em coming. Very useful EQ. Thanks.cloud700 (USA, App Store)
Bargain
Sounds great! Well worth the asking price.Cover tim (UK, App Store)
Using an iPhone 8/GarageBand. For the most part I'm enjoying this app. The drum presets sound fantastic. Everything sounds great...Napalm is Fiiiyah (USA, App Store)
Great EQ
This is a wonderful EQ for iPad music creators get it and try it out Free as standalone and if you like it buy it to use it in Cubasis and GarageBand.Joe Salyers (USA, App Store)
Great apps...
...from this dev. Go RRS!anickt (USA, App Store)