Exciter (VST, AUv3)
v1.0.1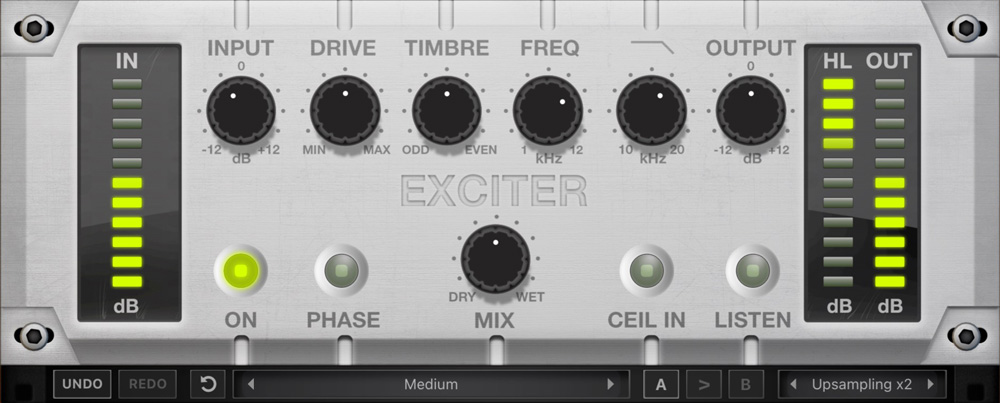 Plug-in Activation requires Internet connection!
You can go offline as soon as plug-in is successfully activated.
The Red Rock Sound Exciter will allow you to improve and enhance sonic quality of signal more naturally than with equalization. Unlike traditional EQ that just turns up the existing harmonics, Exciter generates additional harmonics, therefore there is no boost in the output signal level, this maintains a clear and balanced sound.
Control & Indicator Functions
IN meter — Input Signal Level indicator;
LEVEL — control knob for the Level of the Input Signal;
HARMONICS — this knob controls the amount of generated Harmonics;
TIMBRE — sets the balance between Odd and Even harmonics;
FREQ — sets the frequency of the high pass filter in the side chain prior to the harmonics generator. For example, with a setting of 6000 Hz all frequencies above 6000 Hz will have Harmonics generated by Exciter;
HL meter — the Level meter for the Harmonics that are created;
MIX — sets the amount of Exciter enhancement added to the original signal;
LISTEN — allows you to listen to the Exciter process alone;
OUTPUT meter — Output Signal Level indicator;
Undo/Redo;
A/B;
2x/4x/8x Upsampling.
Keys
Double click — reset to default value;
Shift — reduce knob/fader sensitivity.
Reviews and Ratings
Nothing better! Amazing, amazing, amazing
This is probably along with their bass enhancer the best auv3 and not only enhancers I have ever used, period! Highly recommended. Everything they do sound marvellous!Dimitrios BJ (Greece, App Store)
This is secret sauce
I have an old 190kbps MP3 of a vocal separated from a music track recorded off a 90's tape cassette, so not much top end to speak of. I added this, made some slight adjustments, and I swear it sounds like a studio recording. I mean, your results may vary, but I sure miss this plugin when it's disabled. I can definitely recommend this for mellow audio that needs top end restored. Another must buy for me. I also really like their Bass Enhancer. NOT sponsored — I just love the sound.LeRoi Fox (Canada, App Store)
Nice app
Add a little sparkle!anickt (USA, App Store)