EQ560 (iOS)
v2.0.0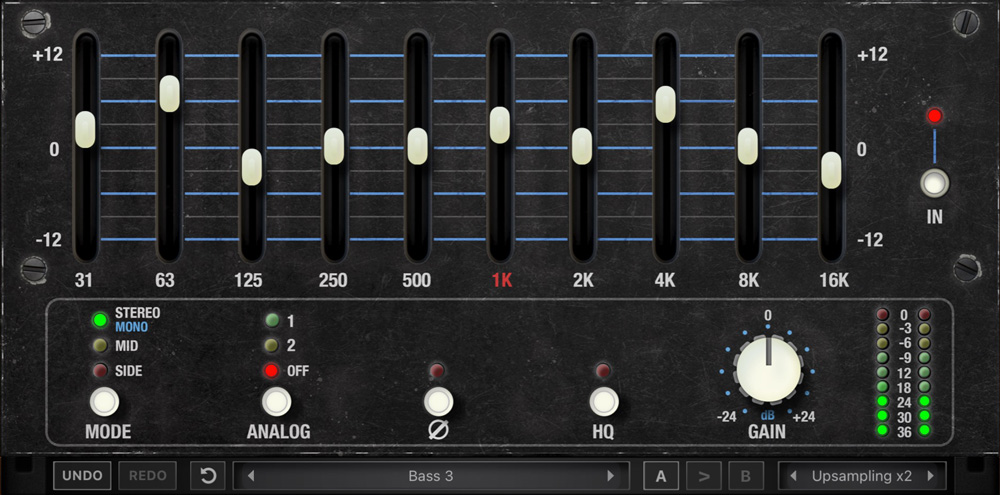 The EQ560 based on Classic American EQ from the late '60s, the 10-Band graphic equalizer features precision filtering and high headroom, ideal for signal enhancement.
Features
Standalone and AUv3 Plug-in;
Precise port of Rack Extensions plugin;
Modeled vintage EQ;
10 bands of proprietary equalization;
Familiar graphics operation on one octave centers;
12 dB of boost/cut per band;
«Proportional Q» narrows filter Q at extremes;
IN/OUT switch — allows the user to bypass the Graphic Eq for before/after comparisons;
Stereo(Mono), Mid or Side EQ modes;
Saturation On/Off-button;
Undo/Redo;
A/B;
2x/4x/8x Upsampling.
The curve shaping potential is unmatched, while unique Proportional Q design intuitively widens the filter bandwidth at lower boost/cut levels and narrows it at higher settings.
The EQ560 extends the features of the original hardware and joins the flexibility of the digital world to the character of the analog processing. Allows you to choose between equalizer modes (Stereo, mid, side) and remove analogue saturation from the processing circuit to deliver pure digital sound.
The EQ560 is handy when you need to make EQ adjustments on larger parts of the spectrum instead of a restricted area. Boosting or cutting several bands at once will radically alter the sound of a track, be it a thin, weak snare that needs low end or a dull vocal that needs to be opened up.
The EQ560 app filters the sample sound and plays it back in real-time. To use EQ560 as a AUv3 plug-in, you need an AUv3-compatible host app like Logic Pro, Garage Band, Auria, Cubase and more. EQ560 will appear in the list of Audio Unit v3 effect plug-ins in the host app.
The EQ560 is a great complement to the parametric EQ550 and EQ550b.
Reviews and Ratings
Yet another great app from RRS!
This is a solid app with somewhat uncommon on iOS, and yet very refreshing to have, ways of "auditioning" the app. No restrictions. No ads. No pop-ups. No "beeps". A full 5 minutes to try it out. And unlimited tries at that. Save a session in AUM with a bunch of these in effects nodes and reload the session after 5 minutes. That's if you need extra convincing or having it in that fashion suits your needs. They even provide a default-able drum beat to be able to audition it quikly and with ease and start adjusting the dials to see what it does. You can turn it off easily. If you can follow basic stop signs and turn on/off your tv, you should be ok. Check out all of RRS's apps as the all feature the same methods of trial.WendysFrostyCarlos (USA, App Store)
Sounds really great, works smooth etc.SelrachKiPad83 (Poland, App Store)
Great. Definitely adds the vibe. Unusual purchase point listening to a loop going for 5 mins before paying but very happy anyway.Astral toad (UK, App Store)
Great eq, little price.
Awesome emulation of an API graphic eq, this one is terrific.
Great sound, nice analog saturation. You can't wrong with it.
Bravo!anfalesi (Italy, App Store)
I love it
I use this within AUM and it works perfectly. The analog thing makes my synths sound nice.Overfiend619 (USA, App Store)
Best EQ by this amazing dev
I'm not gonna say I own them all, but I do own a TON of EQs by other companies and just didn't really feel the need to purchase the other ones (as I have alternatives for), however this baby has been in my mind for a while, I got it and it is superb, I honestly use it a lot simply because it's a very quick way to shape sound. I have other EQs for mastering but I use this one for color/overall definition mostly.

It's great for what it does!

PS: the UIs by this Dev are very nice too, especially the ones on the EQs that I didn't purchase, which also seem like pretty decent EQs (and their ratings DO reflect so whereas this one really doesn't).

This is a 5 star for sure, the critics are just mad literally.Enrique Raphaël Page Pérez (USA, App Store)
Beautiful Character to sound shaping
I find myself going back to this EQ a lot for a few reasons. Simplicity, useful adjustments with its own character. The self adjusting Q that is dependent an the boost or cut really gives this tool a character all of its own. Great for small adjustments to affect overal tonal areas through to more noticeable tonal character changes due to the Q narrowing when using a band more aggressively.

Well worth the price.

These developers make some lovely plug-ins and it's great to have the beautiful tools they make for the Reason rack environment on desktop platforms available as AUv3 on iOS/iPadOS.microsandwich (UK, App Store)