Bass Enhancer (iOS)
v2.0.0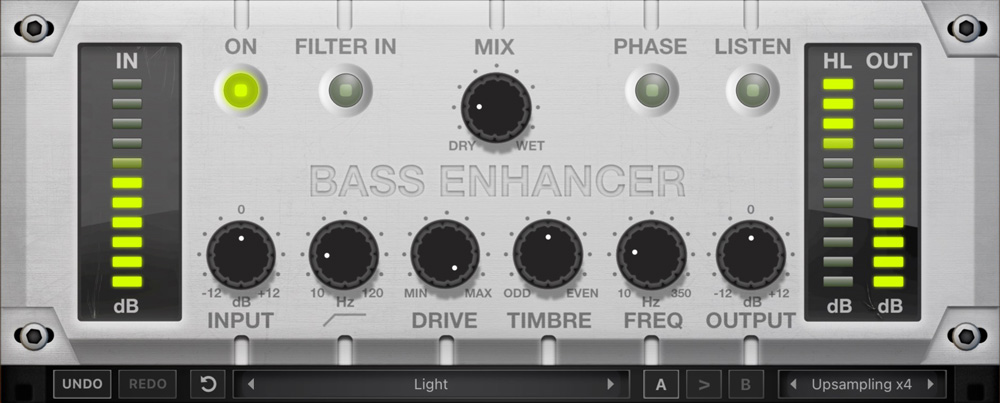 Does your bass sound dull and lifeless? Red Rock Sound Bass Enhancer will be your choice to correct this deficiency. Bass Enhancer designed for saturation harmonics of low-frequency, it creates the effect of lower, deeper frequencies. This effect can not be created with simple equalization.
Features
On switch — allows the user to bypass the Bass Enhancer for before/after comparisons;
Input — control knob for the Level of the input signal;
In meter — lets You monitor the output level before Bass Enhancer processing;
Phase — button to invert the phase of the input signal;
HP Filter — removes Low Frequencies from the generated Harmonics signal. Enable or Disable a HP-filtering mode with the «FILTER IN» button;
Drive — this knob controls the amount of generated Harmonics;
Timbre — sets the balance between Odd and Even Harmonics;
Freq — this knob simply controls where the process begins in frequency domain (for example, with a setting of 85 Hz, all frequencies below 85 Hz will have Harmonics generated by the system);
Listen — mute the Mix signal and Listen to the Bass signal created by Bass Enhancer;
Mix — sets the amount of Bass Enhancer enhancement added to the original signal;
HL meter — the Level meter for the Harmonics that are created;
Out meter — lets You monitor the output level after Bass Enhancer processing;
Output — control knob for the Level of the output signal;
Undo/Redo;
A/B mode;
2x/4x/8x Upsampling.
To use Bass Enhancer as a plug-in, you need an AUv3-compatible host app like GarageBand, Auria, AUM, Cubasis and more — Bass Enhancer will appear in the list of Audio Unit extensions for effect plug-ins in the host app.
Reviews and Ratings
YES a Aphex Big Bottom style AUv3
NOW this is a powerful plugin for all things BASS & Low end. I hope to see the other half aural exciter style plugin soon to compliment the bass enhancer! Joe Salyers (USA, App Store)
This app is brilliant
This thing puts subs where subs doesn't even exists, even like a sub beat, a pulse or something. I'm loving this!!!Camilo Calvo (USA, App Store)
Now this is good
I've had a few enhancers across the years on my outboard gear. This is good, very good. I doubt I'll ever record a track again on my iPad without it. Perfect for sampled basses that sound great in the tops and mids but just don't hack it down below. Get it.Mr Korg (UK, App Store)
Nothing better except their other plugins!
Really? So great? Wow. I have tons of experience and believe me nothing comes any close to this either as a AUV3 or VST! Thank you guys. There is not a single track without using your bass enhancer and exciter. Waiting for any new ones maybe a great sounding pitch shifter!Dimitrios BJ (Greece, App Store)
Stupid me
Spent days trying to use compressors and eq to fix the sound of my (808) bass but this did it in 3 seconds. Should have bought this long time ago.TearZ AJ (Netherlands, App Store)
It just sounds better, deeper
I thought my track already sounded good but then I added this on my master buss in NanoStudio 2 and it now it sounds... yummy. :) I'll definitely be buying the in-app purchase soon!LeRoi Fox (Canada, App Store)